During his Hawaii visit Hunter wanted to not just get some diving in, but go deeper than ever before. So we signed up for an advanced shipwreck dive off of Oahu's southern coast. We decided to tackled the wreck of the Sea Tiger.
Here is the online description of the dive: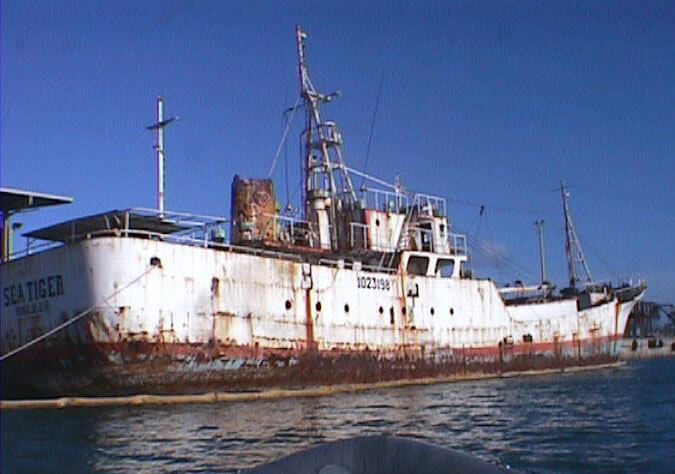 "One of our favorite wreck dives on the south side! The Sea Tiger is 168 ft of artificial reef, sunk in 1999. An amazing array of marine life is already taking advantage of this ship, including squirrelfish and filefish, morays, endangered green sea turtles, spotted eagle rays and reef sharks. The main deck sits at around 80 feet, while the hull hits the sand at about 127 ft.
The ship was originally named Yun Fong Seong No. 303, the ship was apprehended by the Honolulu Harbor Police carrying 93 illegal Chinese immigrants and became legend as Hawaii's largest seizure of illegal immigrants. The name Sea Tiger came from one of the ship's later owners, a Vietnamese fisherman. Voyager Submarines eventually bought the Sea Tiger and spent money and time getting her ready for her new home beneath the waves. This wreck never disappoints! Intermediate to Advanced depending on dive."
We really lucked out with the conditions, and the fact that there were only five divers on the boat! We also hustled out to the the dive site so we would be the first ones there. Again luck was on our side. We could see the wreck very soon after starting our descent. The water clarity was amazing, around 70-80ft. It is always so eerie seeing a once great ship lying down at the bottom of the ocean.
Huge schools of blue stripe groupers covered the wreck and a few turtles were calling the Sea Tiger home as well. We found some cute Kahuna nudibranchs and one very large yellow margin moray patrolling the deck. All told it was a huge success. Not only did we have a symnphony of singing humpback whales in the background but Hunter hit a new record depth of 120ft. Recreational diving limits you to 130ft. Always leave something for next time I told him.